5 Years Later
I don't usually comment on politics on this blog, but as today marks a special occasion, I will do so, but I will not espouse what I believe as it is like religion, you just don't talk about it at the dinner table.
Today marks the fifth anniversary of the United States entry into Iraq. I remember that I was in my foreign policy class in my last semester as an undergraduate student at the University of Nevada, Reno (UNR) at the time and the professor asked, "Do you support the war? How about the troops? If you support the troops, do you indirectly support the war then? Because you would want to support their mission if you support them, right?" At the time, I was against the conflict as I am now, but I have even been against the conflict since the beginning.
I watched it play out however, as I had no choice in the matter because I am, contrary to popular opinion, not the President of the United States. It has lasted longer than the Civil War and both World Wars. Instability is apparent and we are at a cross roads. I think that is what precipitated the protest that I witnessed in person today. I really felt like it was the 60's all over again, if only for an instant. I wasn't around in the 60's, but it would have been cool to have been there. But if I were there, as everyone says, "if you remember it you really weren't there." So could have I been around in the 60's?
Oh yeah, all of the pictures and video below I caught with my cell phone. It's amazing what technology can do in this era in delivering a personal perspective on modern events.
>
Here are a couple of pictures. The people in the circle in the middle of the intersection were bound by what appeared to be PVC pipe that was painted black and they brought sacks in their hands to that intersection that were made to resemble dead people from Iraq. The police ended up cutting a piece out of it to find out where their hands were and then they cut them in half and sprayed a fire extinguisher on them to keep the heat down from the friction. They dragged them away, and they were non-violent. They were let go becuase they weren't violent and it took about an hour to break it up.

On Friday I saw this, what appeared to be a missle with Bush riding it calling for NotAnotherWar.org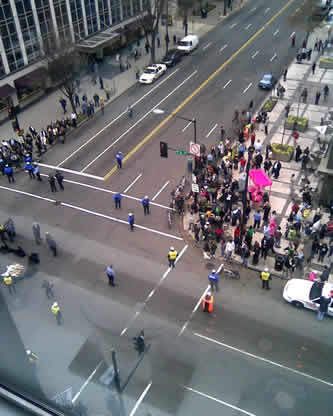 See the Pink bed across the street, it said 'Wake up, no presence in Iraq' or something to that effect
Well, that's it for me. I just wanted to write about how cool it was to witness an actual protest in Washington, D.C. and it was outside of my office building downtown of all things.
Signing off.