My First Game at Nationals Park, Washington, DC

Last night I had the priviledge of attending my first Washington Nationals game at their new stadium. I went with a fraternity brother from another chapter (West Chester University in West Chester, PA), Steve Sauer, who I met through the SigEp Feds who is a die-hard Nats fan. He has a lot of Nats gear, including Ryan Zimmerman (their 3rd Baseman) dogtags. Almost too much, but I can count on him to always have tickets. I must say, I am impressed. Everything that was wrong with RFK Stadium the designers corrected.
Where RFK felt closed in and dark, the Nationals Park opened up and lit up. At RFK all of the food was half sold in booths, the other half sold on carts. At Nationals Park all food is sold at booths along the walls. They have good food now too! Ben's Chili Bowl, Hard Times Cafe (Great Chili), a restaurant called "The Red Porch," A Build-A-Bear Workshop and a kids fun zone (tube maze for kids to play in), batting cages for the public to use where a computerized video of a major league pitcher would pitch to you (they had this technology when I was working at Fun Quest in Reno, NV when I was in High School). What a better place than a ballpark for arcade style batting cages for fun. And to boot, they had escalators and elevators to make this park accessible to people with disabilities (or pregnant women, should they choose to attend a game).

Every open area is really open and walkable and you can watch the game without getting hassled by a ticket taker that you don't belong in that area. The bathrooms play audio from the game announcers on TV and they sell beer other than the major domestics such as Guiness, Stella, Sierra Nevada, etc.
I must also say that the hot dogs, pretzel dogs and Hebrew Nationals were quite delicious. The pricing wasn't all that bad, but it still isn't like eating at Costco. Beer and hot dogs run between $4.50 to $7.50 depending on what you get. But is that any different from any other ballpark price these days?
Below are some pictures from the internet to visually demonstrate what I am talking about.
(All of these pictures are found on the internet, by the way. I didn't take any of these, but I would like to describe my experience nonetheless)

See how open it is. Click on the picture for a larger view. Also, see the baseball on the roof right in front, that is "The Red Porch" and there is a circular LED display that is very cool to see in action.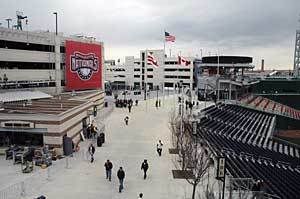 Something to give you perspective on how open the walking areas are.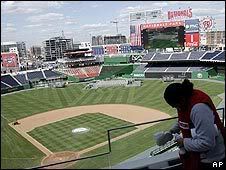 My view, just about. We sat up in the 400's section, but from there, just like everywhere else in the park, it was a great view without obstructions.
Overall, it was a great time and I can't wait to teach our daughter all about baseball and share the pastime with her in the not too distant future. Hey, I even can build a bear with her and let her play in the play area. It's gonna be great to be a dad, especially knowing I can take her here with Christine and I.