Boston Daze
Having dealt with responsibilities this past week and a half including attending class and developing a sixteen page paper with a thorough amount of resources cited amongst them, it is now time to divulge the wonderful time I had in Boston, MA during the weekend of April 12-13, 2008.
On the day of my fraternity home chapter's chartering anniversary of eleven years, I chose to celebrate in a fashion that seems fit. I fulfilled a life-long dream of attending a baseball game at Fenway Park. Now, even though I am a relative new comer to the Red Sox Nation, having been a fan beginning before the start of the 2003 season, this is a dream for any lover of baseball and I am sure that Giants fans, A's fans (which I was as a child until they traded Canseco for two other dead beats along with Ruben Sierra from the Rangers; who does that to a child? Taking away all stability that was once the bash brothers?), and yes, even Yankees fans can say that attending a game a Fenway park is a once in a lifetime or truly great experience.
Not only was this a great experience, but it was a prolonged experience (rain delay of 2 and 1/2 hours), a tight game (Yes, Boston won 4-3 over the Yankees), I got to see Boston play the Yankees— one of the greatest rivalries of ALL TIME, I got some fantastic gear for both myself (I got a Papelbon Jersey) and Ainsleigh (some cute stuff, but you have to ask Christine about it so she can post them in her eloquent way) so she can be a Red Sox fan like her daddy, and I got to see many greats out on the field; something I most definitely won't see at one time witnessing the Nationals play here in Washington, D.C. (Sorry, but the National League just doesn't have the action the American League does).
If you are wondering, attending this game was a treat by my Mother-in-Law's boyfriend, Art. He found them on StubHub.com for around $200 a piece. He is an avid sports better who lives in Auburn, CA. He hit it big and the whole trip was paid for. I am truly in his debt to be able to live such a wonderful, fulfilling, rewarding, everything else ending in "ing" experience. It is almost as I came to Mecca to pray or Jerusalem to visit where Christ had walked. It was that much an experience. I had a Fenway frank, BS'd with my neighbor about how awesome it all was and Papelbon…
That's right, Jonathan Papelbon, the best closer in all of baseball today. He came in and after warming up three different times because of the rain delay began by striking out A-Rod (Alex Rodriguez, for those that don't know he is a spectacular player and one that is an admirable foe). Then he shut down the ninth leading to a solid win. That's not all.
Josh Beckett also opened the game and led the team through six innings to retire with the lead of 4 to 3 in the Red Sox's hands. Manny Ramirez homered over the Green Monstah and it was wicked pissah cool.
Here are a couple pictures from the event that I most certainly not forget. You know how a guy has to get all of the partying out of his system before he can grow up. This was just that experience for me. I have seen Fenway, the Red Sox play the Yankees and now I can grow up and be responsible with valuable experience at my side.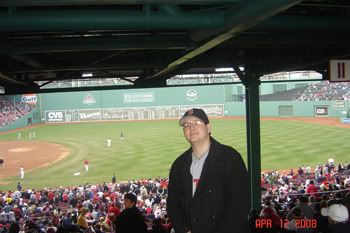 Me + Fenway = Happy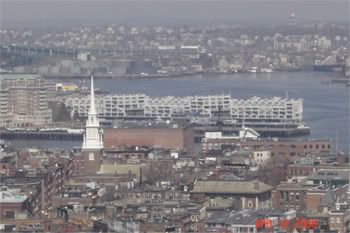 You might remember "one if by land, two if by sea" it was at this steeple in Boston. I am 18 floors up in Matt Ward's office at Wells Fargo Retail Management Services

Yawkey Way before the game, it was a mad house, but I wouldn't have it any other way

Josh Beckett warming up in the outfield to applause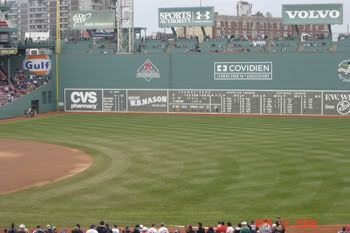 The Green Monstah, it's wicked haad to hit home run ova it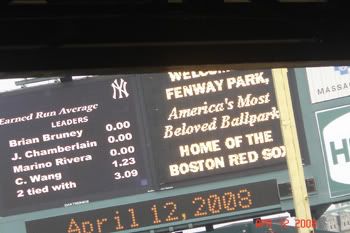 My view at Fenway Park
It wasn't the best for the score board, but it came in handy when the rain started, boy it got cold from about 60 degrees when the game started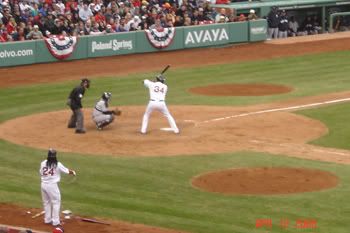 Big Papi during his slump, he didn't hit anything during the game, he was sure trying though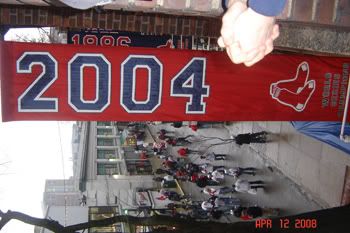 A nice lookin' banner, if I say so myself. I never thought I would be so close to it.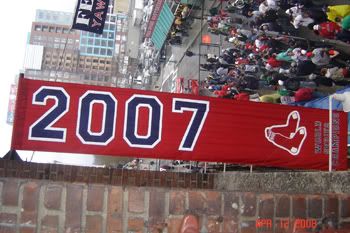 Another equally impressive banner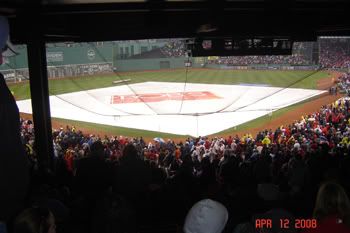 The rain delay helped me soak up the experience, so-to-speak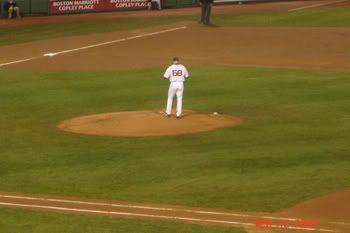 Papelbon getting in the zone
He came out to the song "Wild Thing"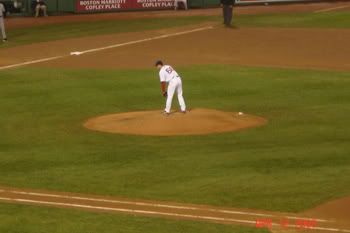 Papelbon: "Forget the curveball Ricky, Give 'em the Heater!

Leaving Fenway Park, a sad but joyous occasion, because they won.
Well that is it and I think this will be the longest post I will ever post. I guess it was a worthy cause and I know, none of you, even the anti-sports fans out there will still get a kick out of it.
Thanks